I'm surprised there hasn't been a topic for this yet! What did you nab at the con this year for awesome loot?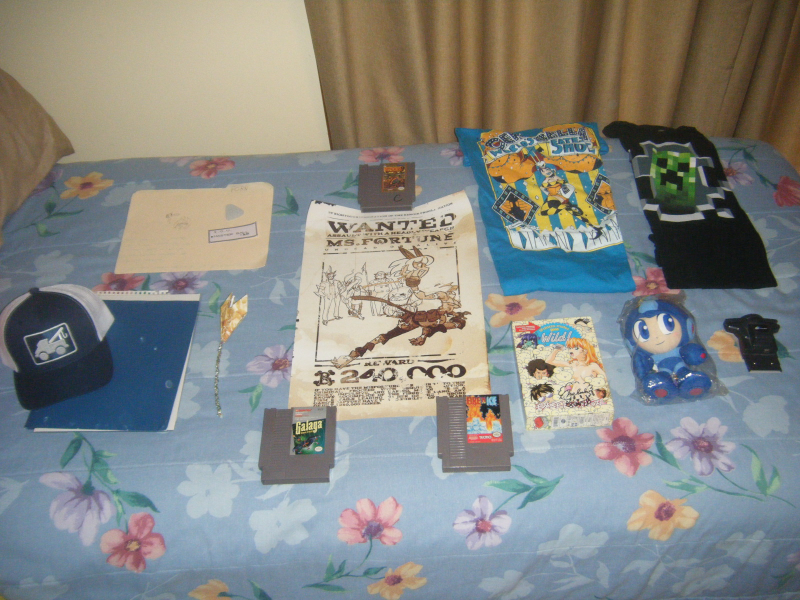 It's probably a hard thing to see, but here's all the items:
1.) A "file" from someone passing out files for file sharing. That was hilarious, thanks! I got "porn".
2.) Gunpowder from a creeper cosplayer I took a photo of. That was extremely clever! Thanks!
3.) An I.O.U. for 256 Master Balls from the Missingno cosplayer. Also extremely clever! Thanks! XD
4.) Flower from an Aeris cosplayer with a basket. It got squished a bit in my backpack. :X
5.) Ellis' trucker hat from Left 4 Dead 2
6.) Lots of awesome commissions, represented by the blue folder I kept them all in.
7.) P.O.W. - Prisoners of War for NES
8.) Galaga for NES
9.) Fire 'N Ice for NES
10.) Poster of Ms. Fortune from Skullgirls
11.) T-Shirt of Cerebella from Skullgirls
12.) T-Shirt of a Minecraft creeper peeking out of a hole.
13.) Autograph on my Excel Saga box set from Nabeshin
14.) Mega Man plushie! (If anyone saw the Finn with Mega Man tattoos is seeing this now, this should be
no
surprise I got this. XD)
15.) E-Reader from a guy who was just gonna throw this out late Saturday night! Thanks dude!